UpComing: Live in de club...
Donderdag 29/9: Elefant (Autumn Falls concert) & SHHT (suport) (free) (21u)

Autumn Falls komt dit najaar twee keer langs in Café Café
Dit zeer sympathieke clubfestival presenteert op 29/09 de magnifieke band Elefant!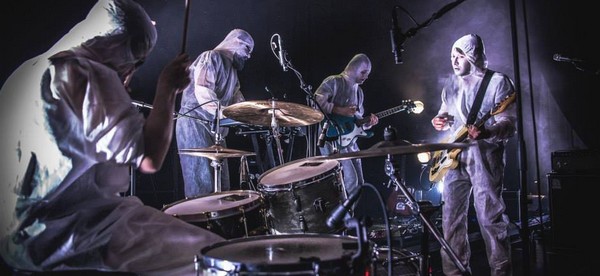 ELEFANT

Somewhere at the end of 2014 ELEFANT rears its ugly head : a quartet of weirdness combining kraut and sludge, flavored with quaint Eastern scales. ELEFANT could be the vessel of a musical apocalypse, or at least the creators of its soundtrack.

References? Neu! meets Slacktone meets Diamanda Galas meets Mykki Blanco meets Magma.

A debut album is scheduled for 2017, but in the meantime ELEFANT recorded one of it's first gigs live and released it as a 5-track EP called "Nordic Tanzen am Sonntag".

(c) bandpic - Marijke Debusschere.

SHHT

Shht is een gloednieuwe formatie uit Gent die met hun strakke grooves en dartel gebeuk menig mens laat lachen en huilen. Invloeden van onder meer Kanye West, The Beatles en Jezus Christus vormen de eclectische bakermat waaruit dit vijftal hun eigenheid ontspruit. Hun liveshows zijn een energieke ervaring balancerend tussen aardbevingen in Haïti en drugs pakken op een kermis. Shht is klaar om de wereld te veroveren.
Video : https://vimeo.com/177951750?ref=fb-share&1
All artists are spoiled with perfect food by Eetcafé Florian

Vrijdag 30/9: Michael Midnight (DJ) (free) (24u)

When Ed&Kim said farewell to the Belgian nightlife scene they pioneered for many years, Kim decided to step up under his solo moniker Michael Midnight. Needless to say that name is tailormade because the man is a genuine nightwolf. After all: the best things in life start after 12.

Throughout the years, and during two decades of DJ'ing, Kim established a solid reputation as one of the driving forces behind numerous party concepts, national radio showSwitch and a dazzling amount of residencies and appearances at the country's coolest events. Nowadays he also added 22 Tracks selector to his resume where he's responsible for picking the finest dance cuts.

*** Musicwise ***
His primal trademark is being versatile. Michael Midnight takes you along muscled yet funky nocturnal voyages. Think of the house, electro and techno foundation of his Ed&Kim days added up with trap, uk bass, urban stuff and much more. The man perfectly knows how to heat up and eventually destroy the floor. Craftmanship and an ongoing thirst for quality electronic music.

*** Some fun facts ***
no artist took the stage at Belgian grand cru festival Pukkelpop more than he did. In 2015 he's been billed twelve (!) times (that's nine sets as a part of Ed&Kim and three times as Michael Midnight). He's also been a regular at the legendary 10 Days Off indoor nights in Ghent, Laundry Day and Tomorrowland.

www.facebook.com/MichaelMidnightdj
https://soundcloud.com/edenkim_michaelmidnight
All artists are spoiled with perfect food by Eetcafé Florian

Zaterdag 1/10:O Veux (Concert) (free)
Ruim 30 jaar na de feiten verschijnen 2 dubbel-lp's van een band die steeds muzikaal evolueerde. Het resultaat daarvan is te beluisteren op volume I van het Leuvense label Onderstroom Records en op volume II van het New Yorkse Softspot music.

Het vinyl verschijnt tegelijkertijd en wordt ondersteund door een totaalavond met enerzijds de band en anderzijds met mensen die zich na 30 jaar steeds creatief bewegen in diverse milieus.. <meer info>
All artists are spoiled with perfect food by Eetcafé Florian

Donderdag 16/2/17: Magnapop (USA) (concert) (21u)
!!!! Sold Out !!!!

Magnapop (USA) komen naar Café Café en zullen in de originele bezetting hun greatest hits komen spelen naar aanleiding van de 20e verjaardag van 'Rubbing Doesn't Help'.



*** TICKETS ***

VVK: € 7,00 - cafecafe.tickoweb.be (enkel online VVK)
Kassa: € 10,00

*** BIO ***

It had been many years since the original members of Magnapop had played together. In 2012, when the Atlanta record store where Shannon was working needed a benefit concert to help stay afloat, he asked the three other original members of the band to join him onstage. We said yes in an instant. When we stood onstage together again it was effortless, just like it used to be, and with all the intensity of when we first played together. In a word, it was a beautiful feeling. It was dramatically different from the feeling of playing with other bands. It still feels fresh to us.

After that show, we played a one-off gig opening for Juliana Hatfield and friends in Washington, DC. It was clear that the four of us - Linda, Ruthie, Shannon and David – wanted to work together again and that a tour would be a blast. More than anything, we wanted to come back and play once again in our beloved Europe – and, most of all, in the Netherlands and Belgium, where people have made a place in their hearts for songs like 'Favourite Writer', 'Lay It Down', 'Slowly, Slowly' and 'Open the Door'.

Expect high energy and intensity in the original Magnapop lineup's first shows in Europe in two decades. It will be loud, furious and harmonious. We will bring it.

Magnapop: formed 1989 in Athens, Georgia, USA
Linda Hopper (vocals), Ruthie Morris (guitar), Shannon Mulvaney (bass), David McNair (drums)

https://www.facebook.com/Magnapop-260871527234/
All artists are spoiled with perfect food by Eetcafé Florian

DJ'S in de Club
(vanaf 24u)(op zaterdagen speelt meestal een huis dj in de club)
tijdens de zomermaanden is de club niet open op zaterdagen!
(uitgezonderd zat30/7 en zat27/8)
| | |
| --- | --- |
| vrijdag 1 juli | RoDo |
| vrijdag 8 juli | Raoul Belmans |
| vrijdag 15 juli | Peter Luts |
| vrijdag 22 juli | Metrobox |
| vrijdag 29 juli | Red D |
| zaterdag 30 juli | Multivision |
| vrijdag 5 augustus | Vierra More |
| vrijdag 12 augustus | Kiani & his legion |
| vrijdag 26 augustus | Mister Critical |
| zaterdag 27 augustus | Multivision |
| vrijdag 2 september | TLP |
| vrijdag 9 september | Buscemi |
| zaterdag 10 september | 20 Years café café, 20 hours party! (click for more info) |
| vrijdag 16 september | Ilse Liebens aka Liebenskind |
| vrijdag 23 september | Lisa Smolders |
| vrijdag 30 september | Michael Midnight |
| vrijdag 7 oktober | Faisal |
| vrijdag 14 oktober | Maverick |
| vrijdag 21 oktober | Stijn Maris |
| vrijdag 28 oktober | Jules X |
| vrijdag 4 november | Christophe Lambrecht |
| vrijdag 11 november | Kiani & his Legion |
| vrijdag 18 november | Hush Hefner |
| vrijdag 25 november | Michael Midnight |
| vrijdag 2 december | Charlie Fraiche ft MC Mary Jane |
| vrijdag 9 december | Red D |
| vrijdag 30 december | dj Kneels |
| vrijdag 13 januari | Goldfox |
| | |